I came across
this recipe
on Pinterest (where else?) for instant chai latte mix. This would make an easy Christmas gift for co-workers and acquaintances. It would look especially cute packaged in a mason jar with a square of fabric on top, and my custom tag (see below) tied on with twine.
Ingredients
1 cup Nonfat Dry Milk Powder
1 cup Powdered Non-dairy Creamer
1 cup French Vanilla Flavored Powdered Non-dairy Creamer
1-½ cup White Sugar
2-½ cups Unsweetened Instant Tea
2 teaspoons Ground Ginger
1 Tablespoon Ground Cinnamon
1 teaspoon Allspice
1 teaspoon Nutmeg
1 teaspoon Ground Cloves
1 Tablespoon Ground Cardamom
½ teaspoons White Pepper
Instructions
In a large bowl, combine all ingredients and mix well.
In a blender or food processor, blend 1 cup at a time, until mixture is the consistency of fine powder.
Transfer the blended mix to a new bowl and continue processing the remainder of the ingredients until all of the mixture is finely ground.
Stir to recombine the processed ingredients.
To serve...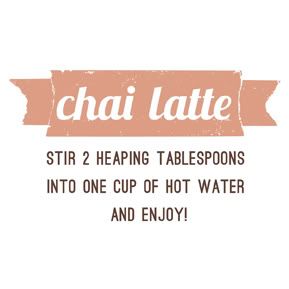 I uploaded a printable PDF
here
. It's 6 labels on an 8.5x11" sheet, with light grey lines for cut lines.